The Classic Rose Face Mist
Regular price

Sale price

Rs. 699.00
Our Rose Face Mist has antioxidant-rich rose water that refreshes and rejuvenates your skin.
Rich in anti oxidants
Balances PH
Prepares skin for hydration
Alcohol free
Description

When you need a pick-me-up, our Rose Face Mist is the perfect way to add a subtle hint of fragrance. Formulated with antioxidant-rich rose water, it will leave your skin feeling refreshed and rejuvenated. This mist is great for all skin types.
How to use

Close your eyes and mouth during application. Spray it on your face from atleast a distance of 15cm. Allow it to air dry and use suitable moisturiser.
Warning

For external use only. Avoid contact with eyes. Wash eyes immediately if irritation occurs & consult a doctor if irritation persists. Colour of the product may change due to use of natural ingredients and essential oils.
Main ingredient

Rose water, Distilled water, rose essential oil, tween 20, Iscaguard PEG, Red Color: CL 18180, White Color: CL 75170
Share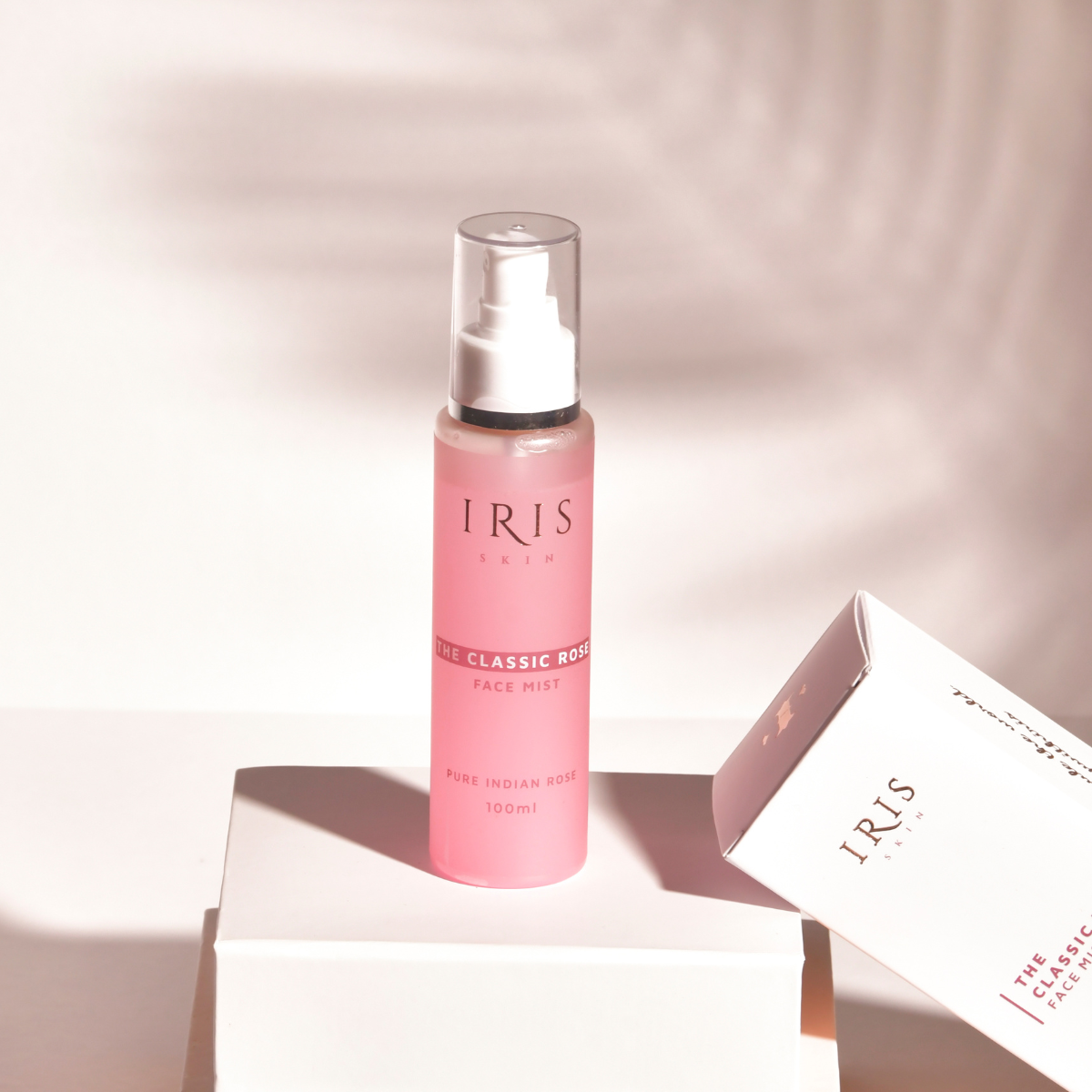 Frequently Asked Questions
What are the benefits of using The Iris Classic Rose Face Mist?

The benefits of using The Iris Classic Rose Face Mist include hydration, improved skin texture, and improved complexion. They can also help to reduce redness and inflammation caused by acne.
How do you use The Iris Classic Rose Face Mist?

To use Iris Classic Rose Face Mist, simply spray a light mist onto the face and neck after cleansing and toning. You can use the mist both morning and night for best results.
Are there any side effects associated with using Iris Classic Rose Face Mist?

No. The Rose Face Mists is usually made with natural ingredients that are safe to use and have no known side effects. However, it is important to patch test any new skincare product before use, in case of any potential allergies or adverse reactions.
Is The Iris Classic Rose Face Mist suitable for acne-prone skin?

Yes, The Iris Rose Face Mist can help to reduce inflammation and redness associated with acne, as well as improve the appearance of acne scars.
How long does it take to see results from using The Iris Classic Rose Face Mist?

Results can vary depending on the individual, but many people report seeing an improvement in skin texture and tone within a few weeks of using the product.
Is The Iris Classic Rose Face Mist safe for sensitive skin?

Yes, The Iris Classic Rose Face Mist is a gentle and non-irritating skincare product that is suitable for sensitive skin. The ingredients in the mist help to soothe the skin and reduce inflammation
Key ingredients
PURE iNDIAN ROSE

Rose has cooling, soothing, and moisturizing properties, is renowned to be naturally hydrating in nature, and helps to maintain your skin's pH balance; making rose essential oil a must-have for calming the senses and easing stress and anxiety.